This post was written by Andrea...
Back last October, we posted a few of our
Training Staples
. Here is Part II with more of our food favorites that, as Jake would say, fuel the engine. We definitely do not have the perfect diet, but we make sure to get enough of the important nutrients to stay strong and be ready for the rigors of training hard. Obviously, running lots and lots of miles leaves plenty of room for our obsessiveness with ice cream and a little candy (although, we could probably still do a little better).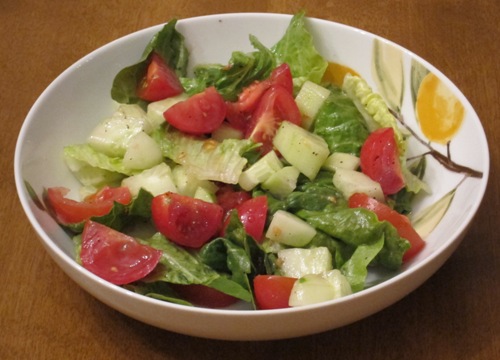 With summertime comes Jake's season of salads - any type of meat with tomatoes, cucumbers, peppers, cilantro, guacamole, salsa, sour cream, and cheese... basically whatever we have around or is on sale at the supermarket. Jake can eat this every day, and oftentimes does. I can only handle a salad about once a week (unless it's Cafe Rio which I could have everyday).
One of our signature dishes that we can never have enough of is meatloaf. We love meatloaf and can make a simple healthy version (especially with the spinach sneak-in). Here is the recipe:
2 lb lean ground beef or turkey
2 eggs beaten
1 1/2 c bread crumbs
3/4 c ketchup
1/2 c warm water
1 pkg dry onion soup mix
1/2 c chopped spinach
Combine first seven ingredients thoroughly. Put into loaf pan and bake for one hour at 350 degrees. If you want to make it super-healthy, use egg beaters instead of real eggs, and add in a couple more cups of chopped onions and peppers.
Green beans and peas have always been my favorite vegetables. We get the large bags and cook them all at once, so we have plenty of healthy leftovers around throughout the week. I put an onion in the green beans and cook them for a while to give them good flavor. Neither are quite as good as back home in TN with pork fat and butter, but this way is definitely not bad!
One of my favorite new discoveries is Morning Star Sausage. With only 80 calories per patty and 10 grams of protein, these are an awesome way to start the day. I have been eating two right after running in the mornings before I have time to eat breakfast. We get the huge box of them at Costco.
In terms of snacks, turkey and swiss cheese is a favorite. This snack is a great way to get in some more protein. Protein is
so important
when you are running a lot and training hard. Jake and I have both seen a huge benefit with increasing our intake.
Dried fruit is hard to beat. I have a huge obsession with dried mangos - I will get a 30 oz bag and eat it within 3 days! I have no willpower so I have to be careful about buying it too much. Dried pineapples and strawberries are also delicious.
In the previous post about Training Staples, we gave up carbonated drinks for a while. It lasted for a while, but the diet drinks have slowly emerged back into our lives. We don't feel too bad about it, considering there's no research showing negative effects of these drinks (except for the cost). Jake made a new concoction of Diet Mtn Dew with Emergen-C that is actually quite tasty!